I Design, Build, Host and Manage Professional and responsive websites. at a competitive Price. Get in touch for more details.
Cheap Fast and Affordable Website
I offer effective, stylish and affordable website design & development.

I'm passionate about the web and committed to building the best website possible for your business.
So listening and finding out as much as I can about your business so that I can advise you on the most effective strategy to achieve your goals. Whether you're looking to develop a new site or you already have a site. But you just need some updates I can help.
What is a Responsive Design?
A responsive Design is a single website that adapts to any screen size so it's as easy to use on mobile as it is on tablet and desktop – no pinching or horizontal scrolling required.
The design instinctively adapts to the device it is being viewed on so it looks great on a mobile, tablet and desktop.
creating Your Website
I Create your website from Scratch and I use WordPress, HTML, CSS, and JavaScript To Build Your Website
I don't just design a website. I also maintain it. what this means is I make sure your website is fast and fully responsive.  Every website I make I test them regularly for speed and performance. websites needs to be maintain regularly in order to have a fast loaded website.  
I normally don't charge for small changes to your website such as adding some text or an image to your website I always do those even if you don't have the update plans for free at least for up to 2 times per year.
I can give your very own Hosting plan with cPanel.
why it's Importance to have A Website for Your Business?
A surprising fact is how many businesses do not have a website. You would think that in this digital modern era everybody would know how important a website is for a business. It is clearly not the case and any business that does not have a professionally designed website is missing out on a powerful marketing tool.
A record number of consumers take to their computers, tablets and smart phones to research a product or company before purchasing. If you do not have a business website you are missing all of this potential business. Even if you're not planning on selling your products or services online, they are still likely to research it online and look for businesses in their area selling what they need.
A website is also important because it helps you establish credibility as a business. There are actually still quite a few small businesses that do not have a website and without one this is exactly how they will stay, small. Without a website, potential customers are going to assume that you are a small time company that does not take their business seriously.
A website will not only give you credibility but it can help to give an impression that your company is larger and more successful than it may actually be. A small business ranking ahead of a large multinational competitor in Google and gaining some of their traffic is even more important as it tends to level the playing field.
Amazingly there are still a lot of businesses that do not have websites, there are different reasons for this but mostly it comes down to business owners thinking websites are too expensive. It's surprising to learn that a website can be built for very little money. You don't need a giant ten thousand page website for your business, just a simple site that tells people about your company, products, services and contact details.
With over 2.2 billion people online, the internet has changed how consumers find and share information. The online world is expanding at a fast pace and is not showing any signs that it is slowing down. If you're looking for an audience, more customers, or people to influence, the web is where your business needs to be. With over 82% of people using the Internet, it is no surprise that businesses with websites experience greater revenue per year than those without websites.
Websites are flexible and can grow as yours business matures. Websites also allow your business to be available 24 hours a day, 7 days a week, all throughout the year. Do not be left in the dust, websites are one of the most cost-effective tools available, leverage the power of a website now.
Design, Domain, Hosting & Support for 12 Months
This is How A Responsive Web design will Look On Different Screen Sizes.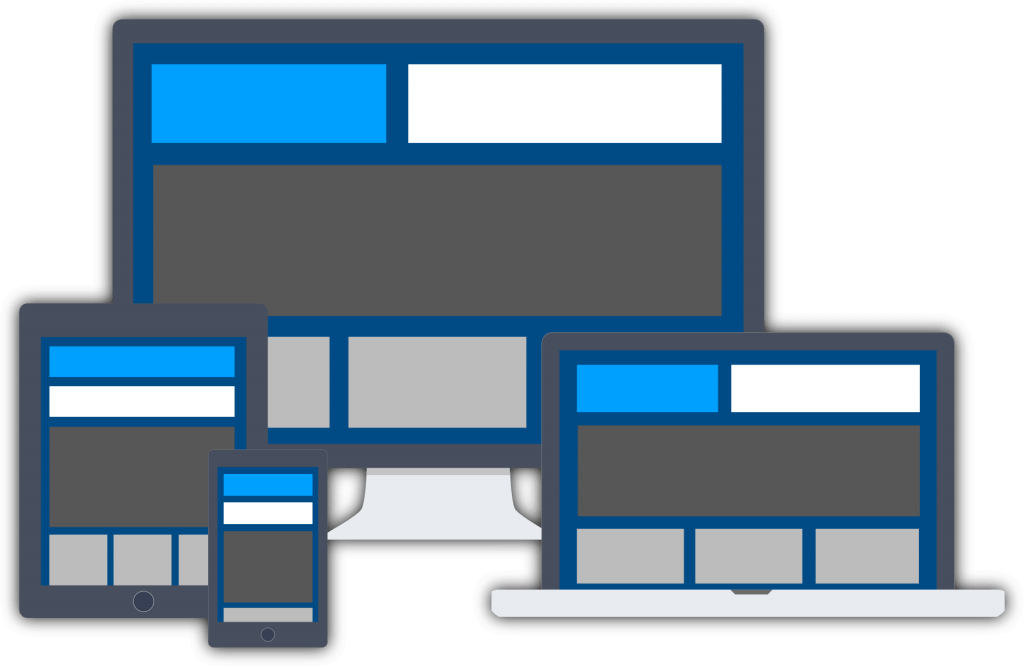 eCommerce Website vs Regular website.
Whats is the difference between eCommerce website and a regular website?
In short answer  an eCommerce website is online store or an E Shop  where you sell your product online.
The Regular website is just a description of your business where people can fined it at your website.
You only need eCommerce website if you have delivery system. for example amazon and eBay are eCommerce websites where a customer can order and they can receive it by post.   If you don't have delivery system or if you don't want to post then you don't need an eCommerce website. Instead you just need a regular website which is a lot cheaper then  eCommerce website to build and you can just put your products information and price but your customers can not buy it. they can only view it which is what most of small businesses wants.
Why it's so  important to have a website for your business?
It's really important to have at least a regular website for your business so this way you can be fount on internet. for example lets say  you have a bakery shop in somewhere small town and someone need a bread near you and they can fined you on the google and they can visit your website and fined out what you offer or you are a plumber and you don't have a website  and someone near you need a plumber but they cant fined you because you don't have a website so they hire someone else. the point is if you have business you really most have a website to get more customers.